This is the first of many pages where I've endeavoured to share a bunch of relevant resources that I've collected or come across whilst restoring or working with old machines, robots or other projects. The resources consist of hardware, software and documentation. Scroll down to the bottom of the page for downloads. First though, some background and experiences.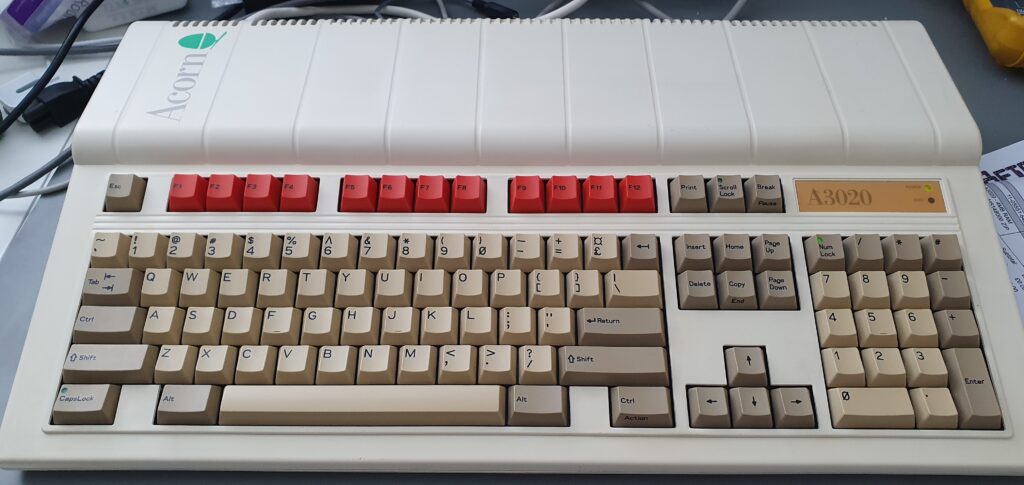 This was my Christmas 2020 project having had it shipped across from the UK. I had a family member pick this up and immediately disassembly to remove the leady Varta battery. Fortunately the machine was stored upside down so most of the corrosive alkaline from the battery had dripped onto the metal shielding rather than destroying the PCB. The machine was saved from the 'curse of Varta' (or at least I thought so).
The machine was fully disassembled and thoroughly cleaned (including the PCB area for any minor leakage corrosion. The battery was replaced by a AA long-life in a separate holder, series diode in-line and moved well away from anything that could be damaged. On partial re-assembly and power up the machine worked. I proceeded to add a 4MB memory upgrade (courtesy of Mark at Retroclinic) an Econet module/missing mouse (thanks to 4-d-pi-shop) and a Morley User/Analogue port also from eBay. All this worked fine and I was able to connect to my (somewhat troublesome) Arduino Filestore (more on that another time).
All of this worked well for many months until I ran into problems when I took the machine to VCF East 2021 for the Bay Area Acorn User Group's Econet exhibit when I got the dreaded red screen after a minute or so running. After decoding the drive POST flash code I found out it was a RAM issue. A little investigation indicated a short from IC13 (ARM250) pin 27 (CAS3) to pin 28 (0V) caused by (you guessed it.. some battery corrosion which had grown since I initially cleaned up the machine. Cleaning this up thoroughly (fibreglass pen to remove, white vinegar to neutralize, then IPA to clean) resulted in the machine working once more.
---
Schematics, Assembly & Disassembly
Service & Installation Manuals
User & Programming Manuals
Acorn A3020 Welcome Guide
Unfortunately these ones are not such great quality but mostly readable (caution, large files)…
Software
After copying this to a floppy (or via a floppy onto the HDD) you need to change the file type to UTILITY). This can then be called with
*SETSTATION
---
If you believe that sharing any of these resources violates copyright then please notify me, and I'll endeavour to rectify the situation as quickly as possible.